USB-Interface
exaU2I
http://www.exadevices.com/exaU2I/Overview.aspx
Buffalo-III
http://www.twistedpearaudio.com/digital/buffalo.aspx
기성 완제품
e20 DAC
http://www.exasound.com/e20DAC/e20DACOverview.aspx
- DSD 2.82MHz and DSD 5.64MHz without conversion to PCM
- 384kHz/ 32bit maximum PCM sampling rate.
- DXD 352.8kHz master files are reproduced with remarkable bit-perfect low-jitter accuracy.
- ES9018 Sabre32 jitter-cancelling reference DAC chip from ESS Technologies.
- Asynchronous USB Interface eliminates jitter caused by unstable computer timing.
- OS X and Windows ASIO custom high-performance drivers.
- Automatic sampling rate switching.
- 384 kHz software upsampling.
- 0.13 ps master clock. Jitter minimization is achieved by using 3 three precision oscillators.
- 17 power filtering stages minimize noise, jitter and channel crosstalk.
- Galvanic isolation between the USB subsystem and the DAC circuits eliminates noise caused by ground loops and blocks computer-originated interferences.
- High-fidelity second generation headphone amplifier capable of driving the most demanding headphones.
- Simultaneously driven, gold plated balanced (XLR), and unbalanced (RCA) line outputs.
- Two S/PDIF inputs provide jitter reduction and superb D/A conversion when used with CD transports.
- The e20 DAC can be programmed to work with most IR remote controls.
e20 Measurements
Jitter
FFT spectrum (1024K points averaged 4 times) of 11.025 KHz signal at 44.1KHz sampling rate.
This measurement exposes the smallest periodic jitters, which would appear as sidebands
symmetrically located around the signal. The FFT spectrum is extremely clean,
with all the artefacts around -152 dB. Only one clearly defined jitter-related
double sideband is visible, located +/- 1KHz from the signal at -152 dBFS.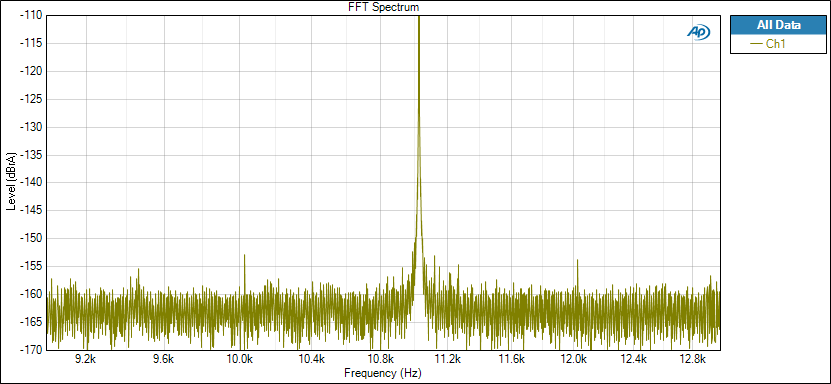 exD DDC
exD DAC
exD DDC + exD DAC 기성 완제품
Sonore/exD DAC
DSD DAC 자작 관련 참고 링크 :
http://www.diymania.net/bbs/board.php?bo_table=n_debate_dacddc